I am now the proud owner of a bareback saddle pad!! My Hubby bought it for me after my last post. Woo Hoo!!
This is what my new BB pad looks like, but in navy blue. There's a water bottle holder on the other side.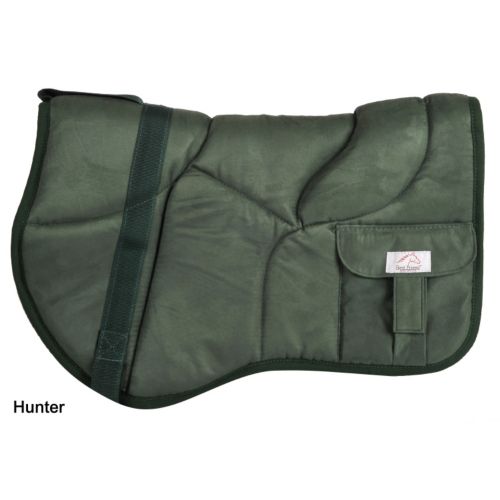 I tried it out on Ava first. Let me preface this by saying I haven't ridden bareback in well over a year, and that was back when I was in tip-top shape and had actual balance. Now, I'm way out of shape and have a definite lack of balance (I'm all over the dang place even in a saddle).
I was trepidatious about riding bareback even with a bareback pad. Ava has been rather naughty lately. Nothing too horrible, but she seems to think there are only two gears: speed-walking, or gallop. Anything else is met by a small tantrum. And Ava has decided that only Ava will decide when we do either of those gears. My struggles to retain control are met with drama and histrionics.
The first day, I only rode Ava in the yard for a minute. It's an extremely comfortable BB pad. There's enough cushion that I'm not sitting directly on her back bone or withers. The material is super grippy too. If this thing had stirrups I'd probably feel just as safe in it as I do my saddle. Sans the stirrups I feel a bit wobbly. However, the grippy aspect makes it so that if I wobble, I won't slide right off the side (unless I totally lose it, but even a saddle can only do so much. Ha).
We trotted for a few steps the first day to determine if I could stay on Ava with her massively bouncy trot. I stayed on. Woo Hoo!
The second day, I rode over to my neighbors house and then out back to the field before returning home. We trotted a bit, but I wasn't brave enough to canter. Ava was being a bit of a jerk, and a bit too full of herself.
I also tried the BB pad on Joy and it seems to fit okay. It's a tad longer than I'd like, but the girth fit (surprisingly). I only sat on Joy for two seconds with the BB pad because all I had on her was a halter and a lead rope. She doesn't steer so well with only a halter. 😉
The nice thing about this BB pad is that it's grippy on the underside also. I was worried that with as barrel shaped as Joy is that the pad would slide to the side. Nope. In fact, it's so grippy, that if I pull on the little handle as hard as I can, I can nearly topple Joy over and the BB pad never moves an inch (I know, I'm not a nice pony owner).
Anyway, it's a nice BB pad. I'm looking forward to using it as much as possible this summer. Hopefully if I use it all the time then it'll make me a better rider, and still be comfortable for my horses. Plus, until we sell our old house, we don't have the funds necessary for a real saddle to fit Joy, and this BB pad will give me some extra security so that I can still ride Joy without a saddle.